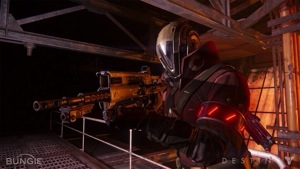 Destiny – Amazon.com bietet Betazugang als Preorderbonus an
PreOrder Boni haben sich inzwischen Bewährt um hohe Vorbestellerzahlen zu generieren. Die Versandhäuser bieten natürlich auch zu Destiny verschiede PreOrderboni in Form von Foenloadbaren Wallpapern oder Postern an.
Amazon.com hat nun aber einen weiteren Bonus im Petto der wohl die meisten potentiellen Destiny Kunden zum vorbestellen überzeugen dürfte – einen Zugang zum Betatest von Destiny!
Im Wortlaut heißt es dort:
Pre-order "Destiny" and receive access to the upcoming beta. Beta will be available in early 2014 on the following platforms: PS4 system, PS3 system, Xbox One, and Xbox 360. Limited time only. While beta codes last. Internet connection is required. Amazon will email you your beta access code within 1 business days of you placing your pre-order. Offer valid when shipped and sold by Amazon.com. This offer will be extended to all existing pre-orders. Limited to one per customer order. Amazon reserves the right to change or terminate this promotion at any time. Here's how (restrictions apply)
Pre-order Price Guarantee! Order now and if the Amazon.com price decreases between your order time and the end of the day of the release date, you'll receive the lowest price. Here's how (restrictions apply)
Demnach untermauert Amazon die Gerüchte um eine mögliche Beta zu Destiny. Laut Amazon wird der Betatest Anfang 2014 starten und nur für Vorbesteller zugänglich sein. Der Betatest steht für die Plattformen PS3, PS4, Xbox360 und Xbox One zur Verfügung.
Auf der deutschen Amazon Seite ist allerdings noch kein Hinweis auf einen Betatestzugang aufzufinden, lediglich auf Amazon.com!
Wir halten euch auf dem laufenden. Bungie, das Entwicklerstudio um Destiny wollte heute sowieso etwas großes verkünden, eventuell handelt es sich genau um einen Betatest!