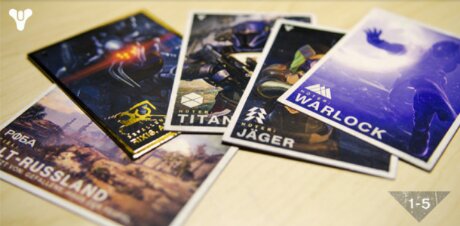 Destiny Trading Card Codes 9+10 [Update: + Code 11]
Wie wir euch hier berichteten hat Bungie auf der diesjährigen Gamescom in Köln damit begonnen Trading Cards für Destiny zu verteilen. Die Vorderseite der Karten ist mit verschiedenen Motiven wie Planeten, Orten oder Charakteren aus Destiny bedruckt. Auf der Rückseite befindet sich eine kurze Erklärung zu den Motiven und ein Code.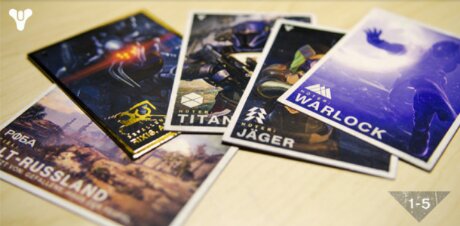 Die Codes kann man auf der offiziellen Bungie.net Seite einlösen und erhält dann ein bestimmtes Goodie – um welche es sich dabei handelt ist bisher noch völlig unbekannt. Da die Codes nicht auf eine einmalige Eingabe beschränkt sind hat jeder die Möglichkeit diese einzugeben und zu nutzen. Auf verschiedenen anderen Gamingmessen sind noch weitere Tradingcards verteilt worden und auch diese entthielten weitere Codes. Wir haben diese hier für euch gesammelt und aufgelistet, sodass ihr diese ebenfalls einlösen könnt. Besucht einfach die offizielle Bungiehomepage, registriert euch dort falls noch nicht geschehen (Link) und gebt dort folgende Codes ein:
Bereits bekannte Codes:
CODE 1: YKA-RJG-MH9 (WARLOCK)
CODE 2: 3DA-P4X-F6A (HUNTER)
CODE 3: MVD-4N3-NKH (TITAN)
CODE 4: TCN-HCD-TGY (RIXIS)
CODE 5: HDX-ALM-V4K (OLD RUSSIA)
CODE 6: 473-MXR-3X9 (HIVE)
CODE 7: JMR-LFN-4A3 (MOON)
CODE 8: HC3-H44-DKC (GJALLARHORN)
NEU:
CODE 9: 69P-KRM-JJA (The Towers)
CODE 10: 69P-VCH-337 ( Duke MK.44)
CODE 11: 69R-CKD-X7L (The Hive: Ogre)
Bisher sind also insgesamt 10 Tradingcards verteilt worden, wir gehen aber davon aus, dass noch weitere folgen werden. In Foren geht das Gerücht um, dass insgesamt 150 verschiedene dieser Sammlerkarten veröffentlicht werden sollen.
UPDATE:
Destination: The Towers
#9 Code: 69P-KRM-JJA
A sanctuary, where heroes rest, repair and rearm
Erected in position of uninterrupted watch on the outer walls of the City, these Towers are defensive strongholds and rays of hope for the inhabitants of the City – places where heroes fight against continuous and growing threats. For our enemies the towers are a warning from us: we, the last survivors, are rising up again.
Hand cannon: Duke MK.44
#10 Code: 69P-VCH-337
Getting to tomorrow is the most important objective of your life
The favorite weapon of those who have to make their first steps outside the City walls. This popular handcannon model is a reference to the old days gone by. The dangers of the frontier are many, but with the speed of extraction, the holographic viewfinder and the ultra-sensitive trigger of the Duke MK.44 no enemy will be spared.
The Hive: Ogre
#11 Code: 69R-CKD-X7L
His cry may seem of mercy, but when you face his fury you'll understand that he deserves none
Accurate informations on these imposing beasts are lacking, given the few that survived a face to face encounter with an Ogre of the Hive. Warlocks believe that they are a product of bizarre mating rituals. These disgraceful beings possess an unrestrained rage, such that they manage to escape even out of their creators' control.