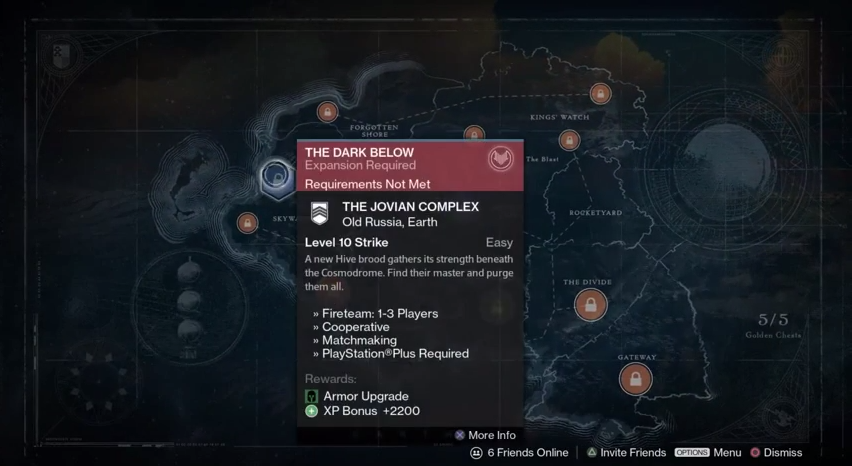 Inhalte der DLCs geleakt?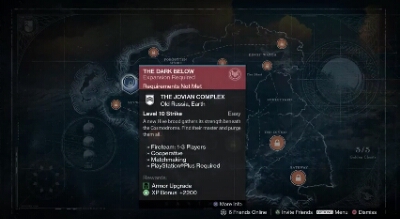 Ein Bug ermöglichte es einem User einen Blick im Orbit auf zukünftige Inhalte von Destiny zu werfen. Bei diesen könnte es sich um die Inhalte der beiden angekündigten Erweiterungen "The Dark Below" und "House of Wolves" handeln.
Der Destiny Fan hat den Bug und seine Entdeckungen in einem YouTube-Video festgehalten:
Darunter sind sechs neue Story-Missionen, vier Strikes, zwei Raids und neue PvP-Cruzible-Spielmodi.
"DETAILS FROM THE VIDEO
Earth
– Strike [Level 10] – The Jovian Complex: A new Hive brood gathers it's strength beneath the cosmodrome. Find their master and purge them all.
– Story Mission [Level 18] – The Veil Lifted: Root out the Hive beneath the Cosmodrome and discover a long-hidden secret of the Golden Age.
– Story Mission [Level 18] – The Seeding: Investigate the return of ancient Hive Wizards, preparing Earth for Crota's reign.
– Story Mission [Level 20] – Gone to Ground: Find a Wolves baron and his conspirators who have betrayed the Queen and are hiding in the Cosmodrone.
Moon
– Strike [Level 14] – The House of Wolves: No description
– Strike [Level 26] – The Summoning Pits: Xyor, the Unwed awaits your arrival at the bottom of the Hellmouth (part of an exotic bounty not new expansion content. Thanks to /u/The7ruth)
– RAID [Level 28] – Crota's End: He waits in the dark below
– Story Mission [Level 20] – The Wakening: Stop the Hive from summoning Crota and consuming our worlds.
Venus
– Story Mission [Level 20] – Wolves' Harvest: Track down the Queen's traitorous Wolves and recover what they've stolen from the Awoken.
– Story Mission [Level 22] – The Citadel: Ascend to the top of the Vex stronghold on Venus and assassinate the Wolves' Kell
Mars
– Strike [Level 20] – The Hypogeum: The ressurection of the Black Garden has begun. Stop the Vex before the Garden's heart beats again.
Reef
– RAID [Level 28] – Reef Raid: No Description
Crucible
– Skirmish [Special Event?] – Only the worthy may face the Trials of Osiris for only the worthy are strong enough to endure what is to come.
– A string of victories will earn you great rewards – but lose three times and you're out.
– 3v3 Team Deathmatch
– Level Advantages Enabled
– Weekly Rewards
– Trial Set Gear
– Ascendant Materials
– Crucible Marks"
Wir möchten an dieser Stelle betonen,  dass es sich hierbei um noch nicht offizielle Informationen seitens Bungie handelt. Das Studio arbeitet eifrig an den Erweiterungen und es könnte auch dort noch Veränderungen geben.